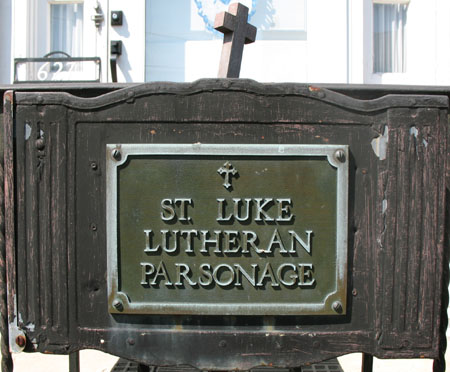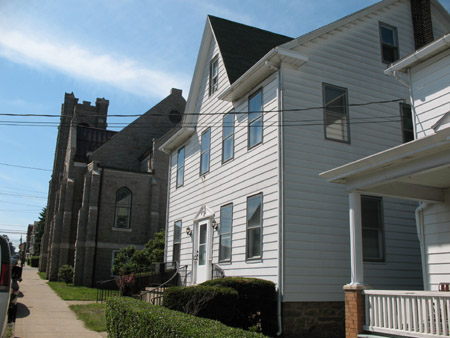 About
ST. LUKE'S EVANGELICAL LUTHERAN CHURCH

HISTORY

St. Luke's Lutheran Church was founded in 1868 with a traveling minister out of White Haven, It was a mission church with all faiths but mostly German Lutherans. The first minister came in August 25, 1875. The town was known as freehold (with German and English People). A Mr. Leither T. Dodson – a pious Christian gentleman conducted a Sunday School every Sunday morning and a Bible Class every Sunday Evening. The services were union in character, Rev, Schmidt attended one of these services and they then developed into regular services held in the evening.

In February 1876, the citizens met and a congregation was organized known as " The St. Luke's Evangelical Lutheran Church of Freeland and Highland" – Luzerne County, PA. In April 1876 the Congregation united with the Synod known as the Evangelical Lutheran Ministerium of PA, the congregation of St. Luke's was a very Fortuna in getting and keeping pastors for years.

Rev. Schmidt was the first pastor and served the Freeland church from 1875 until 1891. Pastor Biemueller, who had the shortest term as a pastor in St. Luke's. His term was from 1892-1893. Pastor Kuntz came in 1894, serving until 1910. Pastor Roth was called and served St. Luke's until 1924. Pastor Haffner accepted the charge in 1928 and served until his retirement in 1693.

Rev. H. Raymond Jones came in 1963 and served until 1973.Pastor Jones started the Sieons Society which is still meeting weekly. After retirement Pastor Jones remained in Freeland.

St Luke's, in 1974, accepted a young Seminarian, WM. Fairchild and he served until 1979. Pastor Fairchild resigned and became an assistant to the Bishop. In September 1979 – Pastor Jack Slotterback was elected as our Pastor. Serving St. Luke's for Five years leaving in 1984. Pastor Richard Summy came to St. Luke's on June 3, 1985, serving until 1989.

In 1990 we called Pastor Manuel Stivers, who served until he accepted a charge in Allentown on March 31, 2001.

From 1876 until 2001, St Luke's has grown. Fifteen years have passed since we celebrated our 110th Anniversary. Much has happened during that time.

We have a Parish house where the church office is located, and four Sunday School Classes are held. Also the youth Group holds their meetings in the down stairs rooms. Church Services have changed in the last 125 years, we no longer have a Bible Class, a choir, and we are in need of a Choir Director and Organist.

The Interfaith Council is still active and meets every three months with delegates from the other Congregations in town. The Interfaith Choir meets at St Luke's; they present two Cantatas' a year.

The food pantry formed in Pastor Summy's years, and is still going strong and is serving 120 families in and around the Freeland area.

The Memorial and Endowment Funds formed in 1969 and still providing adequate resources to help support the necessary capital improvements and/ or building programs.

Scholarships are available from this fund.

St Luke's had five sons and two daughters of the congregation that entered the ministry: Rev. Nelson Schmidt Rev. Frank Kuntz Rev. Charles Holland, Rev. Allen Roth, Rev. Clarence Walck, Rev. Cindy Ray, and Rev. Cathy Lloyd Kluck, as we celebrate our 125th Anniversary of being God's people, we look forward to moving ahead in ministry by the grace of God and our response of faith.

As St. Luke's was founded in 1876, so was the borough of Freeland (first known as Freehold), It was founded on September 11, 1876. The name of Freehold being changed to Freeland due to the fact that there was another Freehold in the postal district, Thus St. Luke's congregation and Freeland borough are both celebrating 125th Anniversary.